On Tuesday 3rd April, we arranged a guided bird watching trip to Castilla de la Mancha for a group of 7 people. The weather forecast was for sunshine and showers and as we arrived at our first viewing point, atop a small hill overlooking the plains, there was a cool wind blowing. Despite this we were treated to immediate views of what was the target bird for many of the group, the Great Bustard.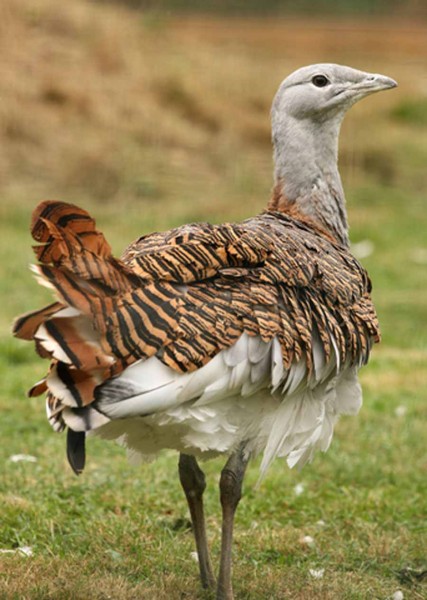 Great Bustard
Skylarks were singing in the fields and a Kestrel battled to hover in the wind. Having enjoyed the Great Bustards we set out across the plains to our next viewing point where we enjoyed superb views of Calandra Lark, Skylark and Crested Lark. We also found more Great Bustards roaming across the steppe.
After a welcome coffee break at a village bar, we stopped at our first lagoon where we had views of Black Winged Stilt, Little Ringed Plover, Kentish Plover, Gadwall, Shelduck and Flamingoes.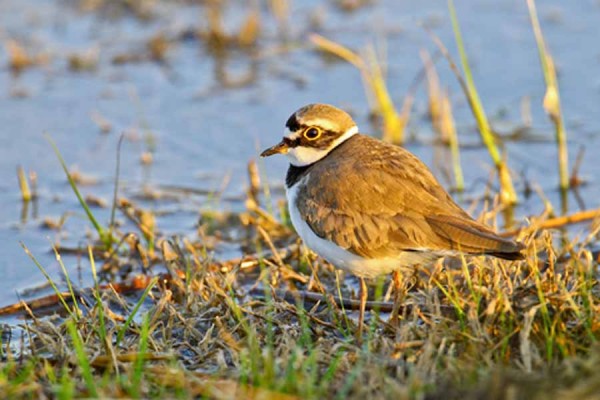 Little Ringed Plover
The next lagoon held more Flamingoes, Red Crested Pochard, and one of the day´s highlights the White Headed Duck. As we watched the lagoon we were also enjoyed sudden views of a pair of Hen Harriers, Marsh Harrier and Buzzard.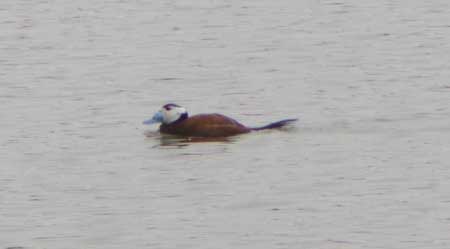 White headed Duck
We then drove out across the steppe on rough tracks, from which we saw Corn Bunting, more Calandra Larks, over 30 Great Bustard and what was for some the highlight of the day, a Great Spotted Cuckoo.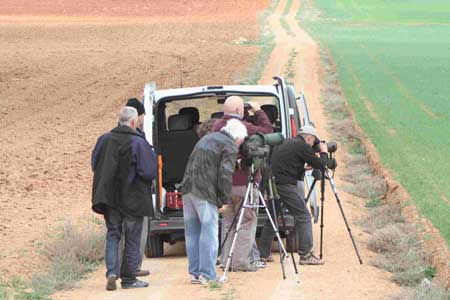 It´s there somewhere!!
As late afternoon approached we stopped at the final lagoon of the day where we had great views of Avocet, Ruff, Redshank, Greenshank, Wood Sandpiper, Gull-Billed Tern and more Flamingoes.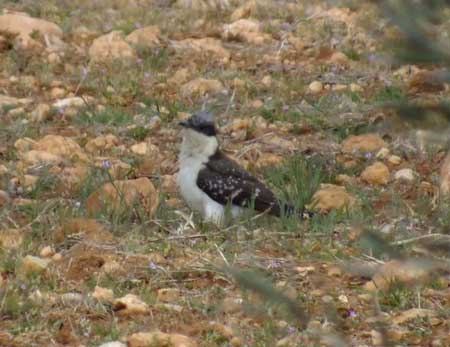 Great Spotted Cuckoo
The weather had been very kind to us, with maybe only 10 minutes of light drizzle. We´d seen some superb birds, including some lifetime firsts for many in the group. Having classified the Peacock that one of us spotted at a farm as "not recordable"! we´d seen 48 species. A great day, lovely people, and some beautiful bird life.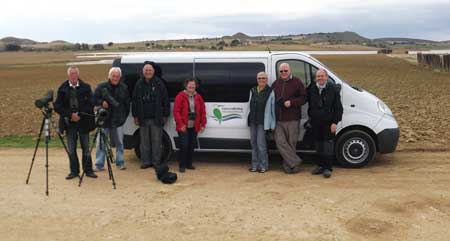 The species list comprised…
Great Bustard, Red Legged Partridge, Lapwing, Black Winged Stilt, Little Ringed Plover, Kentish Plover, Common Sandpiper, Wood Sandpiper, Greenshank, Redshank, Ruff, Avocet, Grey Heron, Cormorant, Lesser Black Backed Gull, Black Headed Gull, Common Tern, Gull Billed Tern, Little Grebe, Great Crested Grebe, Gadwall, Mallard, Shelduck, Pochard, Red Crested Pochard, Coot, White Headed Duck, Calandra Lark, Skylark, Crested Lark, House Sparrow, Corn Bunting, Reed Bunting, Goldfinch, Spotless Starling, Swallow, House Martin, Crow, Magpie, Great Spotted Cuckoo, Hoopoe, Collared Dove, Wood Pigeon, Iberian Grey Shrike, Kestrel, Marsh Harrier, Hen Harrier, Buzzard.