On Easter Sunday Dave provided a guided bird watching trip to the Valencian Coastal Wetlands for a lovely couple from Essex, UK. Experienced travellers and naturalists they were spending the long weekend in the city of Valencia and chose to make a guided bird watching trip a part of their holiday plans.
Having collected them from their hotel in the city centre, we made our way to the coastal wetlands, parked the van and after a brief introductory discussion, made our way along the dunes. We were soon enjoying good views Glossy Ibis, Marsh Harrier and Reed Warbler.
The first lagoon provided superb views of White Headed Duck, Red Crested Pochard and Flamingo. As we walked along the dunes we also had good views of Yellow Wagtail, Chiffchaff, Corn Bunting and Fan Tailed Warbler. Other local specialities included Audouin´s Gull, Whiskered Tern and Purple Heron.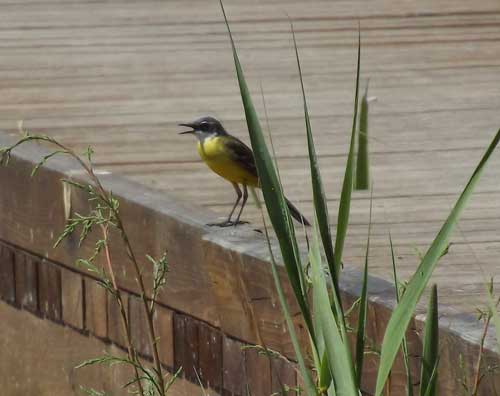 Yellow Wagtail
Our next stopping point was a smaller coastal lagoon and that gave good, close views of Kentish Plover, Little Ringed Plover, Redshank and the beautifully marked Collared Pratincole.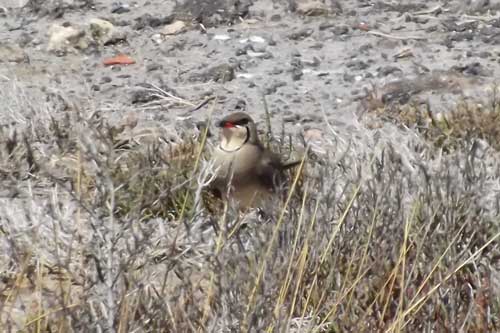 Collared Pratincole
After a relaxed picnic lunch in the spring sunshine we continued our walk and were soon enjoying good views of a Squacco Heron. A Booted Eagle put in a brief appearance as did a Hoopoe and Cetti´s Warbler. Our final stopping point provided good views of Gadwall, Pintail and a Purple Gallinule. We arrived back at the van in beautiful Mediterranean evening sunlight having enjoyed a relaxed and fun day out. It´s always a pleasure to provide trips for such lovely people.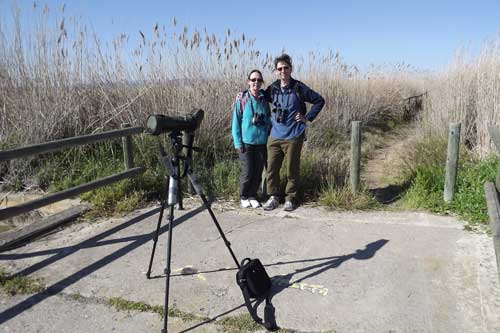 Our species list for the day included…
Swallow, Coot, Mallard, Glossy Ibis, Common Tern, Marsh Harrier, Reed Warbler, Red Crested Pochard, White Headed Duck, Whiskered Tern, Yellow Wagtail, Reed Bunting, Shoveler, Collared Pratincole, Little Grebe, Cormorant, Yellow Legged Gull, Purple Heron, Chiffchaff, Flamingo, Audouin´s Gull, Purple Gallinule, Little Egret, Goldfinch, Corn Bunting, Black Winged Stilt, Kentish Plover, Redshank, House Sparrow, Black Headed Gull, Fan Tailed Warbler, Avocet, Magpie, House Martin, Grey Heron, Sardinian Warbler, Squacco Heron, Kestrel, Cetti´s Warbler, Wood Pigeon, Stonechat, Booted Eagle, Hoopoe, Song Thrush, Pintail, Gadwall, Spotless Starling, Little Ringed Plover.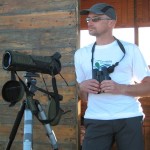 Written by David Warrington.
Bird Watching Guide at Valencia Birding