On Saturday 31st March, we provided a day of Guided Bird Watching to the Coastal Wetlands of Valencia. Our group of 6 people started the day with a coffee by the beach during which we discussed the target birds for the day.
The plan for the day was to complete a circular walk of 7km, stopping at various observation points and hides. The weather was superb as we made our way to the first reedbed and lagoon. There are days when things immediately get off to a good start and today was fortunately one such day! Within minutes of our arrival we were watching 5 White Headed Ducks, right in front of us on open water. They were joined by Flamingo, Red Crested Pochard, Shoveler, Common Pochard and Coots. Common Terns were calling noisily overhead whilst the reedbeds held Reed Bunting, Moustached Warbler and Stonechat.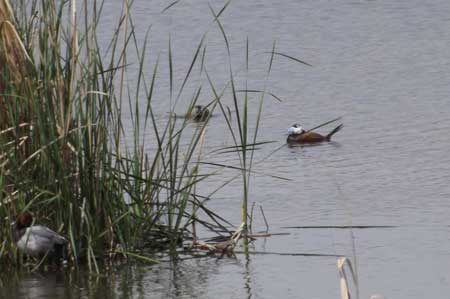 White-headed Duck
The next lagoon on our route held further delights in the form of Collared Pratincole, Black Winged Stilt, Purple Gallinule, Redshank, Greenshank, Garganey, Kentish Plover and Little Ringed Plover. The bushes and trees in the surrounding fields provided good views of Corn Bunting, Fan Tailed Warbler and Sub-Alpine Warbler. By now, Marsh Harriers were making regular passes, usually causing chaos amongst the Whiskered Terns.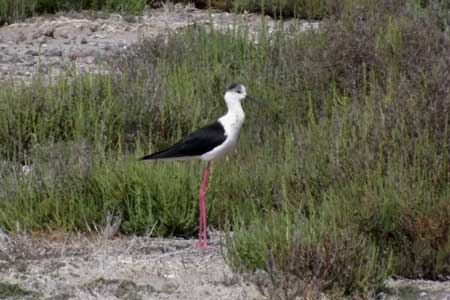 Black-winged Stilt
As we made our way through the wetlands, we were fortunate enough to enjoy superb views of a pair of Iberian Grey Shrike, Kestrel and a Whinchat. The next lagoon held Avocet, Squacco Heron plus more Collared Pratincoles and Purple Gallinule. Having enjoyed a picnic lunch and a lazy half hour in the Spring sunshine, we started back along our return route which passed through reedbeds and pasture. Our efforts were rewarded with good views of a Little Owl, Booted Eagle, Purple Heron and Blackcap.
The final lagoon of the day gave views of a Coot feeding its young, plus good views of Gadwall. As we were about to depart, a flock of Glossy Ibis passed over. The day had a final treat in store in the form of a Redstart that settled on the path in front of us.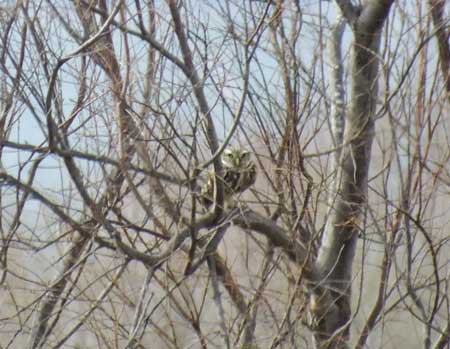 Little Owl
We´d all had a superb day and enjoyed great views of some very special birds. Although I always put quality views high above numbers, we´d managed 65 species in the day, more importantly including a number of "life firsts" for most of the group. Before getting back into the van for the journey home, we enjoyed another coffee and looked out across the Mediterranean, the gentle but fading evening light peacefully bringing a wonderful day to a close.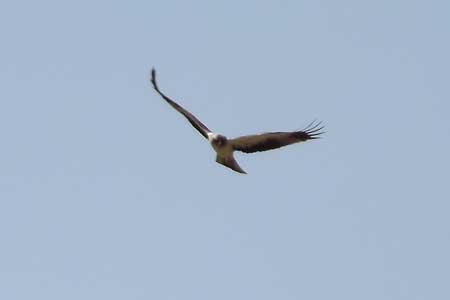 Booted Eagle
Species for the day comprised…
Black Headed Gull, Black Tern, Black Winged Stilt, Blackcap, Booted Eagle, Chiffchaff, Collared Dove, Collared Pratincole, Common Tern, Coot, Cormorant, Corn Bunting, Fan Tailed Warbler, Flamingo, Gadwall, Garganey, Glossy Ibis, Goldfinch, Great Crested Grebe, Great Tit, Greenfinch, Greenshank, Grey Heron, Grey Wagtail, Hoopoe, House Martin, House Sparrow, Iberian Grey Shrike, Kentish Plover, Kestrel, Lesser Black Backed Gull, Little Grebe, Little Owl, Little Ringed Plover, Litttle Egret, Magpie, Mallard, Marsh Harrier, Moorhen, Moustached Warbler, Pied Wagtail, Pochard, Purple Gallinule, Purple Heron, Red Crested Pochard, Redshank, Redstart, Reed Bunting, Robin, Serin, Shelduck, Shoveler, Song Thrush, Spotless Starling, Squacco Heron, Stonechat, Sub Alpine Warbler, Swallow, Swift, Whinchat, Whiskered Tern, White Headed Duck, Wood Pigeon, Yellow Legged Gull
Glossy Ibis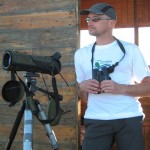 Written by David Warrington.
Bird Watching Guide at Valencia Birding.