Last week, I was very happy to welcome back a small group of returning clients from Scotland. They had previously been on a guided birding trip with me when we explored the wetlands of Valencia, but this time they were keen to see the upland birds of Spain. Therefore, the
Steppe and Lagoons
of Castilla de la Mancha seemed to be the ideal trip.
Having met at a convenient village in the rolling hills of inland Valencia, we continued the journey up onto the plains of Castilla de la Mancha (just over an hour´s drive from Valencia).
As we made our first stop to scan across the fields, we had good views of Crested Lark and Skylark. A Buzzard was perched nearby then a Hoopoe made a brief appearance.
The first lagoon of the day provided a very interesting hour or so. In amongst a flock of Lapwing on the shoreline, we spotted Ruff, Little Ringed Plover and a Redshank. A small group of Flamingoes were feeding in the shallows, and flocks of Linnets were passing through the nearby pines. As we scanned some ruined farm buildings, we had a good view of a Rock Sparrow.
After a coffee break in a small farming village, we made our way up onto the higher steppe. We had good views of Red-Legged Partridge and a Southern Grey Shrike. We also spotted a Little Owl sat atop a pile of rocks, before making its swopping flight into a tree.
We were hoping for Great Bustard but as yet we´d not found any. Our next stop was another lagoon, this time giving views of Marsh Harrier and Black-Necked Grebe.
The final leg of our journey was across some of the high plains and cereal fields. Skylarks and Crested Larks were around in good numbers, and we also enjoyed views of a Green Woodpecker in a small stand of trees. We were then we finally blessed with good and relatively close views of a group of Great Bustards. It´s amazing how such a huge bird can blend into its surroundings. We very quietly stopped the van before making ourselves inconspicuous to get some great views of these exceptionally noble creatures.
It was a fitting end to a very enjoyable day. The species list for the trip included :
Magpie, Crow, House Sparrow, Rock Sparrow, Linnet, Crested Lark, Skylark, Wheatear, House Martin, Swallow, White Wagtail, Spotless Starling, Green Woodpecker, Hoopoe, Buzzard, Kestrel, Southern Grey Shrike, Little Owl, Marsh Harrier, Lapwing, Ruff, Greater Flamingo, Little Ringed Plover, Redshank, Grey Heron, Little Grebe, Black-Necked Grebe, Red-Legged Partridge, Mallard, Coot, Great Bustard.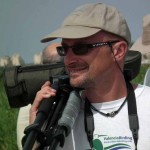 Written by David Warrington