Last week I was especially privileged to be invited to take part in a raptor release programme. The day was organised by an animal recuperation centre based within
Albufera de Valencia
. We are fortunate enough to enjoy a diverse range of birds of prey in Spain, owing to it´s geography, topography, habitat and ecosystems. As well as the many breeding species here in Valencia, many raptors pass through our region whilst on migration.
The animal recuperation centre in Albufera does an incredible job of rescuing, treating and releasing hundreds of injured or sick birds each year and has a team of dedicated raptor specialists. Today was in important day as there were a good number of fully recovered raptors that were ready for release.
To give them the best chance of survival, we drove into the inland of Valencia to an area of forested highlands, ideal for birds of prey to hunt, rest and regain their optimum fitness levels.
The first birds to be released were Kestrels, all of which had been taken to the centre having been found injured or having fallen from their nests as chicks.
Lurdes and I were fortunate enough to release a couple of these beautiful creatures ourselves. It was a great feeling to see them take flight and rediscover their natural World.
The next species to be released was a mighty Eagle Owl. This magnificent creature breeds in some of the mountainous regions of rural Valencia and is always a very special sight, but to see this animal at such close quarters is stunning.
Then it was the turn of one of my favourite Spanish raptors, the Booted Eagle. This is a bird that we often see on our trips, and one that always delights.
Once these birds had taken flight, a Honey Buzzard was released. This is a raptor that we often see on migration through Valencia, and we´d enjoyed good views of one just the previous week whilst with clients at Albufera. The big yellow eyes are remarkable even when viewed through binoculars but now that we were right next to the bird, they were especially piercing.
Once the Honey Buzzard had soared out of sight, it was the turn of a Red Kite, followed by one of our most beautifully coloured birds of prey, the Short Toed Eagle.
We enjoy great views of these magnificent raptors each year in Valencia as they hunt for their preferred prey, snakes and larger lizards.
The day was brought to a close with the release of another Eagle Owl. It´s huge orange eyes and "ear" tufts add to the visual impact of this iconic face.
To see these amazing creatures take flight and to take part in the day was an unforgetable experience.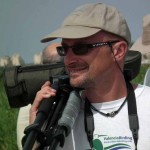 Written by David Warrington.