Mid October was a strange time in Valencia this year. It was as if autumn had not yet decided to show itself and summer was still well underway. Some of our species that are "officially" summer visitors were still here, although today´s trip was blessed with great views of passage migrants.
Valencia´s location, right on the east coast flyway, coupled with its extensive wetlands make it a perfect spot for passage migrants to stop, feed and rest on their autumn voyage to the south. Today was no exception, and we were privileged to have great views of an Osprey that has been enjoying a short stay in Valencia for the past week!
Today´s client Judy was a keen birder from the USA and was also enjoying a short stay in Valencia as part of a wider European trip. She was keen to spend a day birding from Valencia, particularly to see some of the wetland species. We began our day scanning the rice fields and canals of Albufera de Valencia, where we had views of Kingfisher, Snipe, Common Tern, Cattle Egret and Little Egret.
Swallows and House Martins were passing through in huge numbers, and interestingly, "our" Spotless Starlings had been joined by small flocks of visiting Common Starlings from the north.
We then moved on to one of the areas protected reserves where we had close views of Black-Winged Stilt, Fan-Tailed Warbler, Grey Wagtail, Shoveler and Skylark.
We made a brief stop to enjoy fabulous views of a flock of Glossy Ibis, and also saw Lesser Black Backed Gulls and yet more Cattle Egrets.
After a brief lunch stop we spent the afternoon walking around another coastal wetland area where we were treated to super views of Purple Swamphen, Marsh Harrier, Flamingo and Black Necked Grebe.
Perhaps the visiting Osprey had been the highlight of the day but to spend the day with someone with such interest and passion for birding had indeed been a pleasure for me.
The day´s species list included :
Swallow, House Martin, Spotless Starling, Starling, Kingfisher, House Sparrow, Goldfinch, Fan Tailed Warbler, Chiffchaff, Grey Wagtail, White Wagtail, Skylark, Shoveler, Mallard, Moorhen, Coot, Little Grebe, Black Necked Grebe, Purple Swamphen, Snipe, Common Sandpiper, Little Egret, Cattle Egret, Black Winged Stilt, Flamingo, Glossy Ibis, Grey Heron, Black Headed Gull, Lesser Black Backed Gull, Cormorant, Common Tern, Marsh Harrier, Osprey, Kestrel.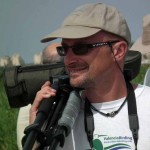 Written by David Warrington.