Following a long, hot and very dry summer a few of us spent last Thursday (6th Sept) up on the steppe of Castilla de la Mancha.
It was clear that the recent prolonged dry conditions had left water levels much lower than usual, and some of the smaller lagoons had dried up completely. This of course meant less birds, but as always with this area, if you put in the effort there are always some interesting species to see.
After a brief road-side stop to watch Crested Lark, Skylark, Hoopoe and Woodchat Shrike, we began at one of the larger lagoons that holds water throughout the year. The Coots were there in good numbers as always but scanning across the water revealed a lone juvenile Shelduck, Black Winged Stilts, Little Grebe and a Greater Flamingo.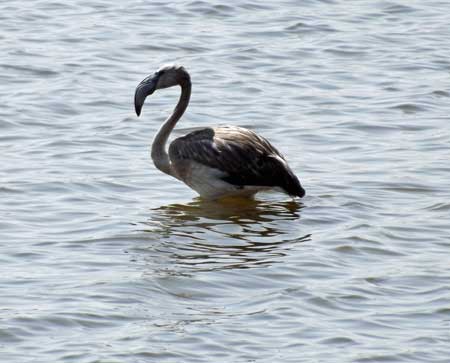 Juvenile Greater Flamingo
The shoreline held a few Little Ringed Plovers and a Common Sandpiper. A little more time spent waiting and watching resulted in good views of Barn Swallow, Red Rumped Swallow, House Martins and Sand Martins. A male Marsh Harrier then appeared and spent a good 15 minutes hunting over the reed beds in front of us.
Patience was rewarded with three great birds in the next five minutes – firstly a Short Toed Eagle passed over, followed by a Honey Buzzard. Whilst we were watching the Honey Buzzard, a pair of Golden Orioles passed by right next to where we were standing.
Satisfied with our first stop, we then headed out across the vast plains in search of the Great Bustard – Europe´s heaviest flying bird. Having spoken to a few locals we were told that they´d not been seen for a few days. The first 20 minutes of searching gave great views of Wheatear and Booted Eagle but no Bustards. Then out across the plains we spotted them – a group of 6 males. No matter how many times we see these birds, the sight of a Great Bustard strutting across the steppe is always special.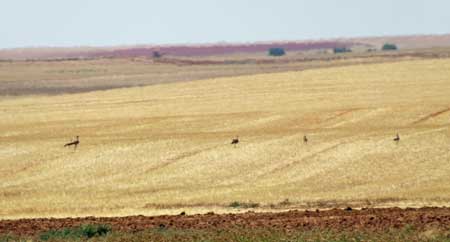 Distant view across the steppe of Great Bustards.
We ended the day with a brief visit to another lagoon where we had good close views of Greater Flamingo and Wood Sandpiper. Scanning across the water with the scope also gave views of Black Necked Grebe and Lesser Black Backed Gull. Despite the low water levels and far less birds than usual, we´d enjoyed some great views of some interesting species. The steppe is always worth a trip and effort is normally rewarded with some special birds.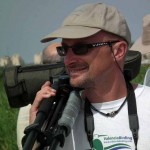 Written by David Warrington.
Bird Watching Guide at
Valencia Birding
.