Last Friday was one of those days when work really didn´t feel like work. Despite being a fairly long day, the weather was perfect, the birds were great and the company of my clients for the day was excellent. Both were scientists who had spent the week at a conference in Valencia and wanted to escape for a days birding. Tony, a very experienced, accomplished but refreshingly "down to earth" birder had travelled extensively and had a superb knowledge of the birds of Australia in particular. His own website can be seen at
tonykeenebirds.co.uk
Jason, a nature lover and birder was also an experienced wildlife photographer.
Having met at their hotel in the city of Valencia, we made the journey west, out of the city and up onto the plains of Castilla de la Mancha. Our first stop was at a vantage point that I usually use as it affords far-ranging views across the steppe.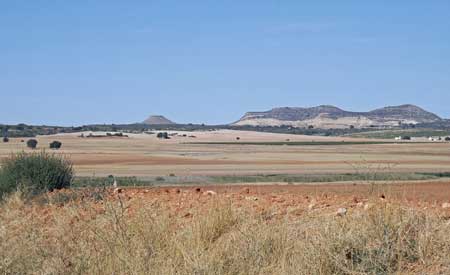 The plains of Castilla de la Mancha
Within just a few moments we´d seen Skylark and Crested Lark in the fields, Spotless Starlings on some farm buildings and a Buzzard on a pylon. The first of many of the day´s Wheatears sat up on a rock, showing well. Then one of the days highlights – suddenly a small group of sizeable birds took flight from some rocky ground beneath us, flew across the road and settled in a field. The swiftness of their flight and the heat haze were initially confusing, but having focused the scope onto them it was obvious that we were looking at Stone Curlews – a great start to the day.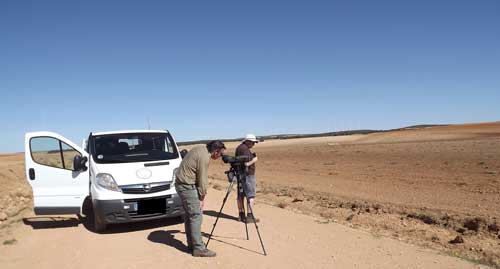 We then drove across the plains on rough tracks in search of another of the day´s target birds, the Great Bustard. Twenty minutes of searching revealed nothing but Skylarks, Kestrels and Crows so we decided to head for another area, but first stopped off at one of the area´s lagoons. Scanning the water, we saw a few Greater Flamingoes, Shoveler, Little Grebe and the usual Coots and Grey Herons. House Martins and Barn Swallows were feeding over the water but careful observation picked out a juvenile Red Rumped Swallow in amongst them. A Sparrowhawk appeared from over the hill, and settled in a nearby tree, flushing out a small flock of Spotless Starlings. Enjoying the shade and generally peaceful surroundings, further scanning around revealed a few Little Ringed Plover feeding on the shoreline. We then returned to the van and set out once more across the steppe in search of other local specialities. We´d been on the move for a matter of minutes when a raptor caught our attention. It was obliging enough to circle above us for long enough to allow great views of this superb bird of prey – a Red Kite. The pale grey thin underwing bar and the less forked shape of the tail suggested a young bird.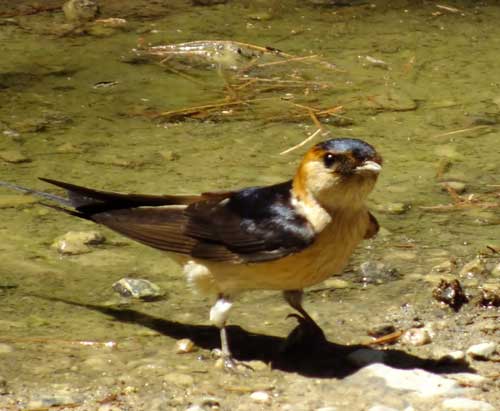 Red Rumped Swallow
Then it was back to the trails that cross the seemingly endless plains. Something ahead caught our attention – it was indeed a group of male Great Bustards, their sheer size evident, even at fairly long distance. Then yet another highlight, Tony found a Great Spotted Cuckoo perched on a wire. Although it didn´t linger for long enough for us to get the scope on it, its key ID features were clear.
Further searching of the plains revealed yet more Great Bustard, a few passing Crag Martins and we were also treated to good views of an Iberian Grey Shrike. We then stopped at a place of previous sightings of Great Spotted Cuckoo. Although there were none around, we were fortunate enough to enjoy good views of yet more Stone Curlew, the big eye and yellow eye-ring showing really well.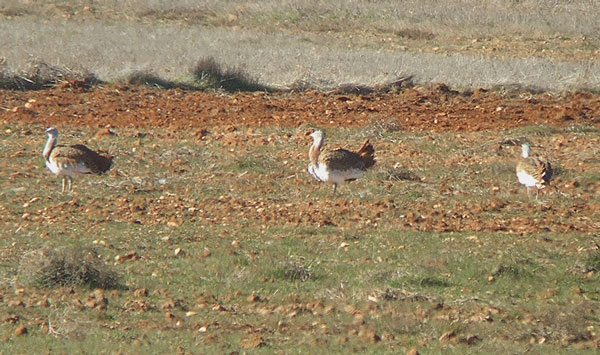 Great Bustards
The final stop of the day was at another of the area´s lagoons, where we saw many more Greater Flamingo, a Common Sandpiper, Black Necked Grebe and Marsh Harrier. We stopped at a local village to grab a coffee before making the journey back to Valencia. We´d seen some superb birds and had been fortunate to enjoy perfect weather conditions. Thanks to Tony and Jason for a great day out.
The day´s species list comprised…
Barn Swallow, Black Necked Grebe, Black Winged Stilt, Buzzard, Collared Dove, Common Coot, Common Sandpiper, Crag Martin, Crested Lark, Crow, Great Bustard, Great Spotted Cuckoo, Great Tit, Greater Flamingo, Grey Heron, House Martin, House Sparrow, Iberian Grey Shrike, Kestrel, Little Grebe, Little Ringed Plover, Mallard, Marsh Harrier, Red Kite, Red Rumped Swallow, Shoveler, Skylark, Sparrowhawk, Spotless Starling, Stone Curlew, Wheatear.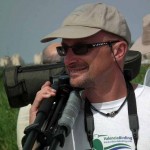 Written by David Warrington
Bird Watching Guide at
Valencia Birding
.