On Tuesday, I took two local British birders on a half-day trip to the mountains of Valencia. Before we set off on the short walk, we stopped for a coffee and were entertained by a pair of Short Toed Treecreepers and a group of Long Tailed Tits in the pine trees by the road.
We parked the van and set off into a beautiful rocky gorge. Within just a few minutes, we spotted a Black Wheatear, a special bird for today as it was a "life tick" for both of my guests. It sat around long enough for a few photos although it was quite a long way off. It was soon joined by at least 6 Black Redstarts and similar numbers of Blackcaps.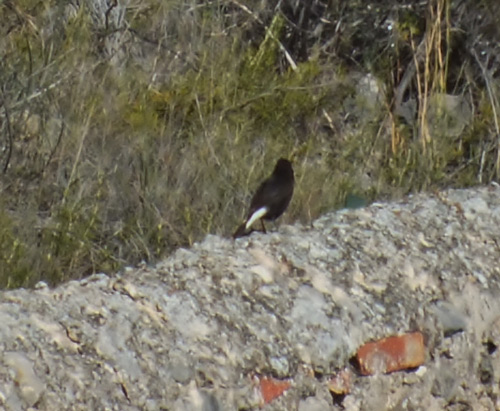 Black Wheater
As we made our way up the valley we were treated to stunning views of Griffon Vultures. It´s always incredible to see how such a huge bird can soar on the thermals seemingly without any effort whatsoever. We were fortunate enough to find a few at rest on the high cliffs so were able to get a few photographs.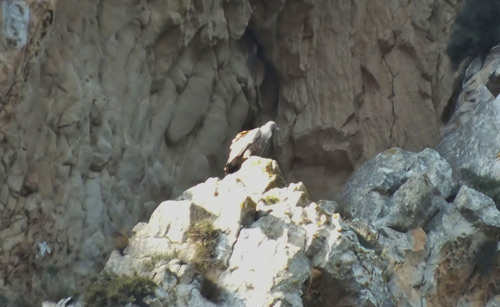 Griffon Vulture
Whilst we were scanning the cliffs for more vultures, we saw Crag Martin, Rock Bunting, and Sardinian Warbler. A familiar sound caught our attention and sure enough, a pair of Ravens soon appeared in the sky above us.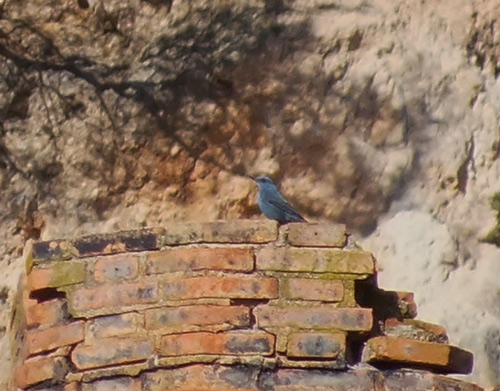 Male Blue Rock Thrush
After a little time spent sitting in the afternoon sun we made our way back to the van. Before packing and departing, we scanned around one more time and were treated to superb views of both male and female Blue Rock Thrush.
A great way to spend half a day and within a few hours we´d managed to see…
Black Redstart, Black Wheatear, Short Toed Treecreeper, Blackcap, Long Tailed Tit, Serin, Raven, Chaffinch, Song Thrush, Blackbird, Robin, Griffon Vulture, Blue Rock Thrush, Sardinian Warbler, Chiffchaff, Crag Martin, Rock Bunting.
Written by David Warrington
Bird Watching Guide.