On Tuesday I had the pleasure of providing a guided bird watching trip to Albufera de Valencia for clients William and Val from Cumbria. Both skilled birders, having enjoyed many overseas trips they were keen to explore the Natural Park of Albufera.
Having provided a brief summary of the history and layout of the park, we drove across the northern rice fields where we saw hundreds of Little Egret and Grey Heron, and also picked out Reed Bunting and a Bluethroat. We then moved onto one of my favourite "hidden corners" of Albufera and were immediately struck by the sheer numbers of Chiffchaffs. The extremely cold weather that Europe is currently suffering has driven thousands of these tiny birds down the East coast of Spain, together with many Black Redstarts, Robins, and Siskins.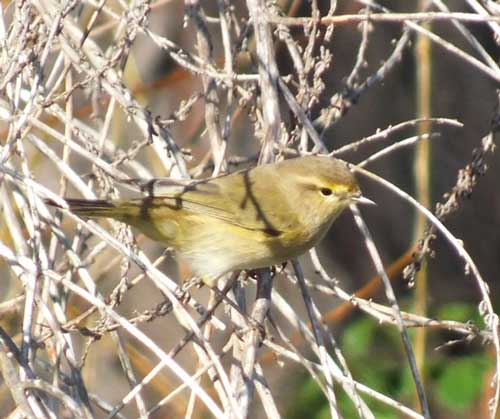 Chiff Chaff
We were then fortunate enough to enjoy close views of a Booted Eagle in flight, the sunlight showing off its colouration beautifully. Marsh Harriers were around in good numbers too. As we walked through the wetland habitat, we saw several Purple Gallinule and Snipe. We also had good views of a Cetti´s Warbler and a Kingfisher. Perhaps the best views were of a Bluethroat that showed very well for over 10 minutes.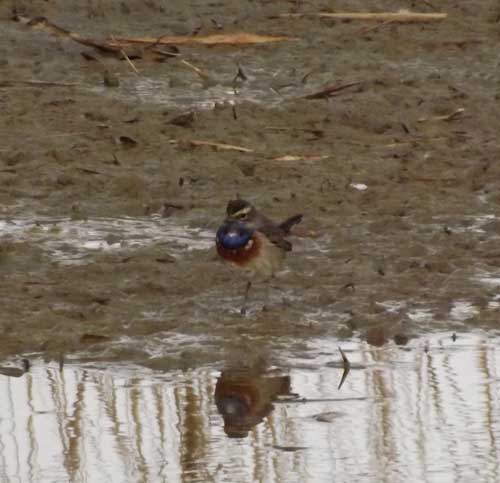 A Hoopoe swooped down in front of us and lifted its crest , a strikingly beautiful bird. Then a small flock of Black Winged Stilt flew gracefully by.
We then moved on to another regular spot where we had good views of Cattle Egret, Lapwing and a flock of over 200 Black Tailed Godwit feeding in a field. After a brief lunch we focused our attention on the main lake for a while where we enjoyed good views of Pochard, Red Crested Pochard, Teal, Shelduck, Shoveler and Pintail. We then happened across a muddy field that surprisingly contained over 20 Snipe, almost invisible to the naked eye but exceptionally clear when viewed through the scope.
The final part of the day took us across the southern rice fields where we were treated to more super views of Booted Eagle and Marsh Harrier. By now, the sun was quite low in the sky and the day was giving way to a beautifully peaceful evening. Huge flocks of gulls were stood around in the fields, including Black Headed, Yellow Legged and Lesser Black Backed. We also had good views of Great White Egret. As we stopped to take a closer look at this amazingly graceful bird, we also came across a few Tree Sparrows in a nearby hedge.
As we travelled slowly across the fields, we were treated to a memorable spectacle as over 300 Glossy Ibis flew overhead before coming to rest nearby. As the light was beginning to fail we made one further stop to scan a flock of Lapwing, in amongst which were good numbers of Golden Plover.
We´d had a great day out and had been treated to some classic Albufera birds. Our day list totaled 46 species and comprised…
Black Headed Gull, Black Redstart, Black Tailed Godwit, Black Winged Stilt, Blackbird, Bluethroat, Booted Eagle, Cattle Egret, Cetti´s Warbler, Chiffchaff, Collared Dove, Coot, Cormorant, Crag Martin, Fan Tailed Warbler, Glossy Ibis, Golden Plover, Goldfinch, Great White Egret, Grey Heron, Hoopoe, House Sparrow, Kingfisher, Lapwing, Lesser Black Backed Gull, Little Egret, Little Grebe, Magpie, Mallard, Marsh Harrier, Meadow Pipit, Pied Wagtail, Pintail, Pochard, Purple Gallinule, Red Crested Pochard, Reed Bunting, Sandwich Tern, Shelduck, Shoveler, Snipe, Spotless Starling, Stonechat, Teal, Tree Sparrow, Yellow Legged Gull
Written by David Warrington.
Bird Watching Guide at Valencia Birding.