The day proved to be very interesting. Our first sightings of note included a Reed Warbler and Marsh Harrier. As we sat overlooking one of my favourite lagoons, our patience was rewarded with excellent views of White Headed Duck, Purple Gallinule, Fan Tailed Warbler and Little Ringed Plover.
We walked across the reedbeds and enjoyed Whinchat, Wheatear, Sardinian Warbler, Stonechat, Redstart and Bluethroat. Our picnic lunch by another body of water was complimented by super views of the usually elusive Water Rail. A Glossy Ibis flew over as did a Lapwing plus hundreds of Barn Swallows, in amongst which were a few Red Rumped Swallows.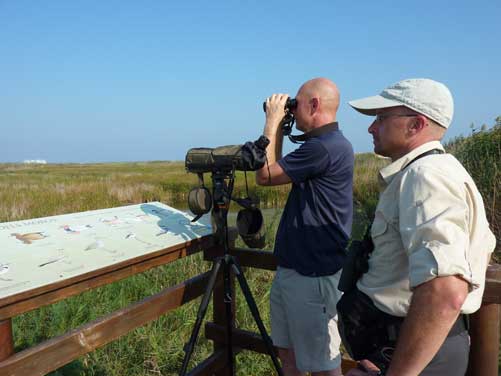 As we continued the walk across the reserve, we had great views of Iberian Grey Shrike, and watched as the movements of Swifts, Sand Martins and Swallows continued. We were fortunate enough to pick out a handful of Pallid Swifts in amongs them too.
The final stop at another lake provided a great ending to the day with super views of Ringed Plover, Dunlin, Shelduck, Sandpiper, Greater Flamingo and Kingfisher.
The list for the day totalled 50 species. We were all pretty tired and hot but had enjoyed a great day´s birding. The complete list for the day comprised…
Coot, Moorhen, Little Grebe, Kingfisher, Herring Gull, Marsh Harrier, White Headed Duck, Black Winged Stilt, Little Egret, Shoveler, Black Headed Gull, Purple Gallinule, Fan Tailed Warbler, Grey Heron, Water Rail, Little Ringed Plover, Redshank, Whinchat, House Sparrow, Wheatear, Flamingo, Sardinian Warbler, Stonechat, Redstart, magpie, Wood Pigeon, Glossy Ibis, Kestrel, Bluethroat, Stock Dove, Swift Swallow, Iberian Grey Shrike, Red Rumped Swallow, Palid Swift, Goldfinch, Hoopoe, Cattle Egret, Spotless Starling, Mallard, Ringed Plover, Lapwing, Sand Martin, Reed Warbler, Dunlin, Shelduck, Snipe, Pied Wagtail, Sandpiper, Collared Dove.