I was recently fortunate enough to provide a day of guided birding for a couple from Germany. Although now living in western Germany, Rebecca was born in my home town of Sheffield so it was good to talk of adventures in the Peak District!
As part of their holiday in Spain, they had booked a day of guided birding with us, and we´d opted for a trip to Albufera. In September, it´s always really interesting as the autumn migration is underway and Albufera is an important stopping and feeding area.
We began the day at a special little reserve where we were treated to views of Glossy Ibis, Spoonbill, Osprey, Marsh Harrier, Purple Heron and Night Heron.
We also visited a ringing station where we watched the ringers at work, recording the data of a Reed Warbler and a Bluethroat.
The afternoon was spent in amongst some partially flooded rice paddies where we had great views of some super waders including Black-tailed Godwit, Dunlin, Little Stint, Curlew Sandpiper and Ruff.
As we were thinking of wrapping up for the day, a bright yellow flash caught our eye. Close examination revealed it to be an invasive species….a Black Headed Weaver! This African species is now present in small numbers in Spain and Portugal, and sadly represents a threat to some native species. There have been other recent sightings of Black Headed Weaver in Valencia, and although it really is a stunning bird, its presence is not always welcome. However, it did provide an interesting end to a great day´s birding!
The species list included…
Grey Heron, Purple Heron, Night Heron, Squacco Heron, Little Egret, Cattle Egret, Great Egret, Black-winged Stilt, Greater Flamingo, Spoonbill, Glossy Ibis, Collared Pratincole, Cormorant, Sandwich Tern, Whiskered Tern, Mallard, Shoveler, Little Grebe, Purple Swamphen, Coot, Moorhen, Wood Pigeon, Collared Dove, Magpie, Fan-tailed Warbler, Reed Warbler, Kingfisher, Spotless Starling, Swallow, Sand Martin, House Martin, Chiffchaff, Marsh Harrier, Osprey, Bluethroat, Dunlin, Little Stint, Black-tailed Godwit, Wood Sandpiper, Common Sandpiper, Curlew Sandpiper, Ruff, Ringed Plover, Little Ringed Plover, Kentish Plover, Avocet, Snipe, Black-headed Weaver.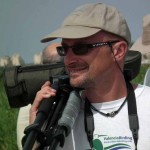 Written by Dave Warrington.