Today´s trip was a joint effort arranged by Valencia Birding and La Safor Ornithological Society, a Spanish group based in our local town of Gandia. The area visited was the same as that taken in on our
"Steppe & Lagoons" trip
and visits the high plains of Castilla de la Mancha, just over a hour´s drive from the Mediterranean coast.
To make the most of the day and to have the best chance of seeing the target species we left our home base at 6.30am and after a couple of pick ups we were up on the steppe by 8.30am. The early start was rewarded by a stunningly beautiful and crisp morning. The temperature gauge was showing -6 degrees C and a sharp frost was evident although fortunately there was a complete lack of wind as we made our first stop.
Winter sunshine on the plains of Castilla de la Mancha
As we scanned across the vast plains we were fortunate enough to see a dozen Great Bustards resting in the early morning sunshine.
Having enjoyed some super views we headed back to the van and drove along our usual track out over the fields.
Great Bustards
We made a few brief stops, the first to watch another group of Great Bustards and the second to see another target bird, the delicately marked Black Bellied Sandgrouse. Although quite far off, we enjoyed good views through the scopes.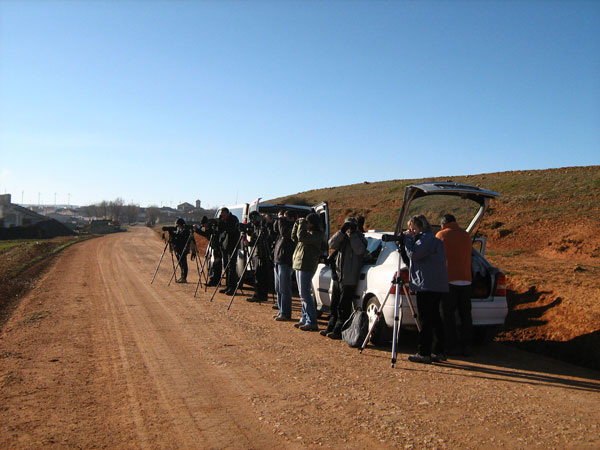 Scoping across the plains gave views of Black-Bellied Sandgrouse and numerous Great Bustard
Our next stop was at a small lagoon where we saw Shelduck, Teal, Mallard, a Common Sandpiper and a Lesser Black-Backed Gull. The next lagoon provided good views of Pochard, Red Crested Pochard, Shoveler, and Little Grebe. This is an area that has previously provided sighting of Hen Harrier although sadly, not today. However, we did enjoy good views of Marsh Harrier and Buzzard. A Black Redstart and a Stonechat moved through the bushes.
After a coffee break we headed off again across the plains where upon reaching a flooded area, we enjoyed good views of Snipe, Little Stint, Greylag Goose and a Corn Bunting. A little further on we stopped and enjoyed superb views of yet more Great Bustard plus small flocks of Calandra Larks and a pair of Cranes, another of the day´s target species.
headed for our final stopping point, we made a slight diversion to enjoy views of a soaring Golden Eagle, always a spectacular sight.
Our final viewing point was a large lagoon where we watched Greater Flamingo, Black Winged Stilt and yet more Shelduck. The bushes and trees around the shore held Iberian Grey Shrike, Tree Sparrow, Linnet and Cirl Bunting.
The day had been a great success and was enjoyed by all, especially those who enjoyed new "life ticks". As the sun began to dip towards the horizon we made our way back down to the coast, feeling very privileged to have seen some magnificent birds.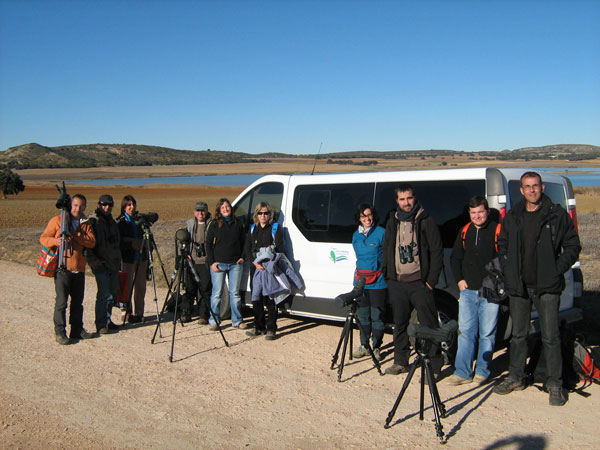 The day´s list totaled 45 species, and comprised…
Black Bellied Sandgrouse, Black Redstart, Black Winged Stilt, Buzzard, Calandra Lark, Cattle Egret, Chaffinch, Cirl Bunting, Collared Dove, Common Sandpiper, Coot, Corn Bunting, Crane, Crested Lark, Crow, Fan Tailed Warbler, Flamingo, Golden Eagle, Goldfinch, Great Bustard, Iberian Grey Shrike, Greylag Goose, House Sparrow, Kestrel, Lapwing, Lesser Black Backed Gull, Linnet, Little Grebe, Little Stint, Magpie, Mallard, Meadow Pipit, Moorhen, Pied Wagtail, Pochard, Red Crested Pochard, Robin, Shelduck, Shoveler, Snipe, Spotless Starling, Stonechat, Teal, Tree Sparrow, Wood Pigeon.