Although a little further South than our usual haunts, as we had an appointment in Alicante in the morning, we decided to make the most of the day by taking a slight detour and spend the afternoon bird watching at Santa Pola and La Mata.
The forecast for heavy rain thankfully proved to be pessimistic. Although we expected to be watching from the van, we were fortunate enough to be greeted with patchy cloud and sunny spells.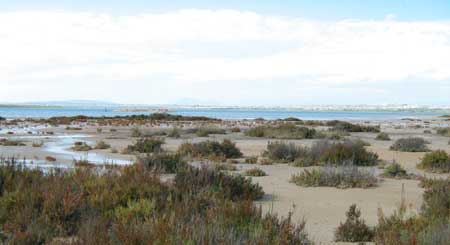 SANTA POLA
We scanned the lagoons at Santa Pola first, where we enjoyed views of hundreds of Greater Flamingoes and Yellow Legged Gulls. Scoping across the water revealed Sandwich Tern, Shelduck and Avocet, all in good numbers. A few Little Ringed Plovers scurried along the shallow banks whilst a Marsh Harrier passed low over the reedbeds. As we explored the reedbeds a little more, we had good views of Black Redstart, Zitting Cisticola and a male Cirl Bunting. As we made our way back to the van a pair of Turnstones ran out of the vegitation on the shoreline. A final scan gave us views of a passing Great White Egret.
After a brief lunch we headed a little further south for some bird watching at La Mata. As we walked through the vineyards and down to the hide, we watched dozens of Skylarks, a handful of Crested Lark and at least 8 Black Redstarts. The lake was quiet although as is always the case, a little patience was rewarded eventually. From the hide we watched Kentish Plover and Sanderling on the shoreline. A short walk through the fields gave views of Spotless Starling, Meadow Pipit, Stonechat and Greenfinch.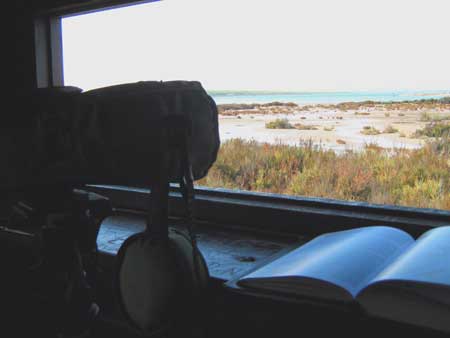 We then headed back to the car park and began packing away the gear. We were about to get into the van when a wagtail flew over from the meadow and landed in the car park. At first glance it appeared to be a White Wagtail, but we soon noticed some yellow on its head. We quickly grabbed the binoculars and were able to watch what we firmly believe to be a Citrine Wagtail. We were unable to get the camera and photograph it so clearly cannot officially claim it, but having researched further we´re very confident that´s what it was. Further searching was in vain but what an end to the day!
Written by
David Warrington
, professional Bird Watching Guide.