As we had business to attend to in Valencia today, the opportunity to spend a couple of hours looking what was around Albufera couldn´t be missed.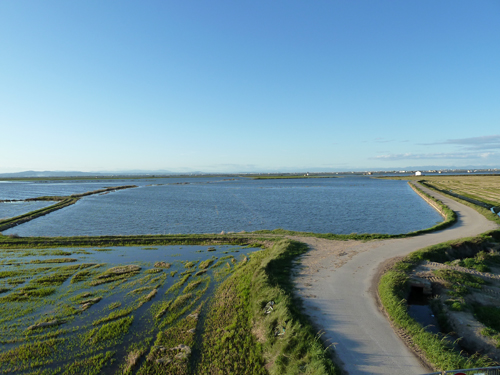 Autumn Sunshine at Albufera de Valencia
We started at the main hide, where we were greeted by a group of school children on a day trip! Although not the quiet environment that we expected, it has to be remembered that this is where the future of conservation lies. We soon attracted a small group of kids who were curious to see what the telescope was and soon had a small queue forming to watch the Flamingoes that were resting at the far side of the lagoon. A few others were fascinated to see the beautifully coloured Teal through binoculars which at first glance to them, appeared to be just "boring brown ducks"!
A very tame Black Redstart!


Once their teacher called time and moved them on and out of the hide, we settled down to see what else was around. As mentioned, Teal were present in good numbers. A group of 6 Black Winged Stilt did a good job of trying to conceal a lone Avocet amongst them. We spend a little time waiting and watching and were rewarded with, amongst other things Kingfisher, Little Grebe, Sardinian Warbler, Little Egret, Greenshank and a Black Redstart that almost came into the hide to have a look at us!
Further scoping across the lake revealed Red Crested Pochard in huge numbers, Cormorant, Pochard, and up to 6 Marsh Harriers. Crag Martins passed over as did a flock of Spotless Starlings. It also seemed that most of the Iberian population of White Wagtails were at Albufera, plus many more Cattle Egrets than we usually see there!
A Great White Egret beside a Little Egret








A little further up the lake we saw Yellow Legged Gull, Lesser Black Backed Gull and Sandwich Tern. We then headed back towards home and finished the day with good views of Great White Egret, Lapwing, Sparrowhawk, Shoveler and what must have been our best ever close-up views of Marsh Harrier.
A great afternoon spent in a classic Valencian Wetland, and a species list of 38…

Avocet, Black Headed Gull, Black Redstart, Black Winged Stilt, Cattle Egret, Chiffchaff, Coot, Cormorant, Crag Martin, Flamingo, Goldfinch, Great White Egret, Greenshank, Grey Heron, Grey Wagtail, Kestrel, Kingfisher, Lapwing, Lesser Black Backed Gull, Little Egret, Little Grebe, Magpie, Mallard, Marsh Harrier, Meadow Pipit, Moorhen, Pochard, Red Crested Pochard, Robin, Sandwich Tern, Sardinian Warbler, Shoveler, Sparrowhawk, Spotless Starling, Stonechat, Teal, White Wagtail, Yellow Legged Gull.