The summer continued into September with cloudless blue skies and another beautifully warm day. Even before we left the vehicle, we enjoyed magnificent views of over 20 White Storks passing through. We set off to explore the wetlands, stopping off at the favourite points along the way.
The warm sunny day only added to the relaxed pace of the day but our efforts were truly rewarded with a species list of 42. September can be a little strange as the summer visitors have started to disappear and many winter visitors have not yet arrived. However, the trip proved to be superb, providing some of the best views of Spoonbill that we´d ever had. The Greater Flamingoes, still in stunning breeding plumage were as ever spectacular.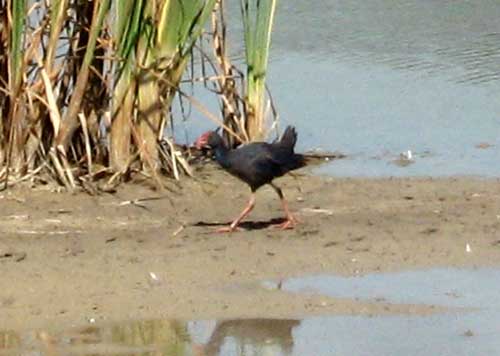 PURPLE GALLINULE
Other highlights of the day included a Glossy Ibis, Avocets, Little Ringed Plover, Kentish Plover, Marsh Harrier, Purple Gallinule, Marbled Duck and a Curlew Sandpiper. At one point our patience was rewarded with one of those extra special birding moments when we had a Marbled Duck and a Purple Gallinule in the same bino view!
Other favourites of the day included hundreds of passing Bee Eaters, an Iberian Grey Shrike, Whinchat and Kingfisher.
Total list for the day was…
Avocet, Bee Eater, Black Winged Stilt, Coot, Common Sandpiper, Cormorant, Curlew Sandpiper, Fan Tailed Warbler, Glossy Ibis, Greenshank, Grey Heron, Greater Flamingo, Great Egret, Green Sandpiper, House Sparrow, Hoopoe, Iberian Grey Shrike, Kestrel, Kentish Plover, Kingfisher, Little Grebe, Little Egret, Little Ringed Plover, Moorhen, Mallard, Magpie, Marbled Duck, Marsh Harrier, Pochard, Purple Gallinule, Pied Wagtail, Reed Warbler, Squacco Heron, Shoveler, Spoonbill, Swallow, Spotted Flycatcher, Stonechat, Spotless Starling, Whinchat, Wood Pigeon, White Stork.